Alternator Repair
Alternator Repair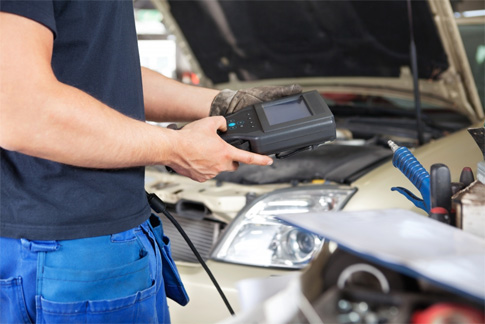 Whether you are in Mira Mesa, Kearny Mesa, Miramar, Sorrento Valley, Rancho Bernardo, Scripps Ranch or the surrounding communities or surrounding communities, you can rely on Miramar Automotive & Transmission for all of your alternator and charging system repair and service needs.
The alternator supplies power to the electrical system and charges the battery when the car is running. When your battery light comes on, or a charging system warning illuminates on your dash, it may be your alternator that is the culprit. Those warnings indicate an electrical problem that may very quickly leave you stranded. Before that happens, head over to Miramar Automotive & Transmission where we can test your charging system and repair it before you need to call a tow truck.
Signs of Potential Alternator or Charging System Issues:
Dim headlights or dashboard lights
Dashboard warning light is illuminated – battery symbol, ALT or GEN
Grinding or whining noise
Burnt rubber odor
Vehicle not starting promptly, or not starting at all
Alternator and Charging System Maintenance & Repair Performed
Electrical systems are complex and computerized, and nearly all vehicles require specialized tools and equipment to diagnose problems. Testing is the only way to accurately determine if the alternator (and not another component) is the cause of the issue. At Miramar Automotive & Transmission, we have the necessary tools and training to check your vehicle's alternator and charging system to make sure it is operating correctly, whether by AVR tester or OBD II.
Comprehensive charging system diagnostics
Alternator replacement
Battery replacement
Electrical system wiring repair
Benefits of Choosing Miramar Automotive & Transmission
We operate with the highest level of integrity and promise full transparency
ASE Master Certified Technician shop
We use high quality parts
24 month/24,000 mile Nationwide Warranty on qualifying parts and labor
40 years serving Mira Mesa and the surrounding communities, combining a long tradition of superior service and modern diagnostics
For quality alternator repair and service in San Diego and San Diego County, trust Miramar Automotive & Transmission. Call us today or use our convenient online form below to schedule an appointment. We thank you for your business and are proud to serve our friends and neighbors Alternator repair and replacement needs.