One of the most valuable things you can do for yourself is learn a skill. It used to be that a young person was contracted out to a craftsman or artisan with the task of learning a trade. It used to be if your father was a carpenter, chances are you would be drafted into the trade yourself. This evolved into a system of apprenticeships like those that are still in place today for plumbers and electricians. All of these skills are incredibly valuable to society and are integral to our daily lives. Like many trades, the field of mechanics is critical to keeping our country running. At Miramar Automotive and Transmission you will find some of the best mechanics around and true craftsman in the art of speaking to vehicles. Our ASE Certified technicians are truly passionate about getting their hands dirty and getting it right, the first time.
Artists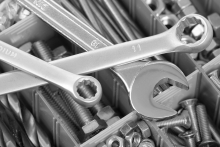 In comparison with more residential trades, mechanics are a different breed; mechanics have more in common with artisans like woodworkers and chefs.The apprentice programs that are integral to the plumbing and electrical industry are not necessarily the way mechanics enter the field. For mechanics, what they do is more of a calling, a skill that is either there or not and much like a talented painter, it begins spontaneously. The career path of a mechanic is not the same as a plumber, ironworker or electrician, a true mechanic is born into the profession. They answer some innate call inside them when they choose to work on vehicles for a living. They probably played with cars as a kid and took everything apart; as the years went on, the passion evolved into repairing bicycles and eventually, a real car. This car was a catalyst in the mechanic's life, like a key that unlocked a true passion.

Highly Trained
Not to say that mechanics do not have any training, far from it. The choice to become a mechanic is a lifetime commitment to learning. Automotive technology changes so quickly that keeping up with the latest developments demands a strict attention to continuing education. The typical career path for a mechanic usually begins with a comprehensive trade school of one kind or another; following that, a stint as a helper is generally the next step. The progression can be either fast or slow, depending on the pupil and the expectations of the teacher. After this phase, the mechanic is generally placed in a role in which they excel. Some are experts in fuel systems, some in engines, and some are masters when it comes to diagnosing and repairing transmissions, just like we do at Miramar Automotive.
Troubleshooting
The true skill that a mechanic needs in order to be exceptional at their job is troubleshooting. Troubleshooting is much more than meets they eye, it is a skill that takes time to develop and an uncommon attention to detail in order to perfect. The misconception about mechanics is that they are simply fixing a vehicle, the act of repairing the issue is only the final step in the process. In order to repair the vehicle correctly the diagnosis of the problem must be correct and a competent troubleshooter is able to reason and deduce the issue. Thinking around walls, visualizing outcomes and awareness of the entire system as a whole, is only a part of the troubleshooting process. An exceptional troubleshooter is going to be sought after as a mechanic and is held in high regard.
Keeping Customers Happy
A good mechanic is the cornerstone of every automotive repair shop and, will keep customers and the owner happy. We believe that Miramar Automotive and Transmission is the best around when it comes to employing expert mechanics. When that is the case, you get your vehicle repaired right the first time. Because no one wants to hassle with a car that was supposed to be fixed but isn't. Having an issue with your car is enough of a hassle without worrying if your mechanic is going to fix it correctly. At Miramar Automotive we are mechanics to the bone and we want to see our customers receive the best vehicle care available. So come and visit us next time you are needing quality auto repair, we only employ the best of the best. Our mechanics were born to do this and we were born to give our customers the peace of mind that the repair to your car or truck is done right.
Get in now before the weather turns really unbearable and get that air conditioner recharged and inspected! Proudly serving Mira Mesa and the surrounding areas! Call today for specials and oil change service at your convenience, our team will inspect your vehicle and advise about any other issues that we may find. So call today and get ready for summer!