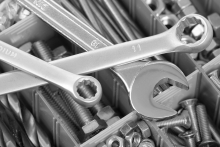 Increasingly the idea of vehicle maintenance has been relegated to the realm of the super duper kwikie lube places that seem to pop up in every new shopping center. You know the type. The driver pulls up to a garage door and honks, the door opens and a kid with a clipboard and rubber gloves approaches the vehicle. Not to say that the whole process is creepy, but there are horror movies that utilize the same elements. The rubber gloves, the clipboard and the slowly ascending garage door all suggest an abandoned medical facility or an alien autopsy. Ok so maybe that is a bit dramatic, but don't you find the process of bringing your vehicle to a place that is set up like a drive through Vegas wedding chapel a bit disconcerting? Have we become that desperate as a society for free WIFI and burned coffee that we will hand over our vehicles to a place that will not let many of their employees drive the vehicles? Sure you have ten inexperienced, identically dressed teenagers swarming your vehicle, but just as setting a pack of monkeys loose in a mall parking lot won't help you find your car any quicker, they have only a small idea of what they are doing. The bottom line is, many of the quick lube places have no idea what they are doing when it comes to real vehicle maintenance.  
The Miramar Difference
The best part about the quick lube places is that you know exactly what you are going to get. They will fill up your car with the cheapest oil on the planet with the very real possibility of leaving the drain plug loose, leaving off the oil fill cap or installing the air filter wrong. Oh right they will always try and sell you an air filter – always. This is all the opposite of what we stand for at Miramar Automotive and Transmission. When you bring your vehicle to us, regardless of whether it is diesel, hybrid or gasoline we have the experience to recognize underlying issues. When you bring your vehicle in for routine service, like an oil change, wouldn't it feel good to know that the technician looking at your car is an extremely qualified automotive professional? Of course it would!
More Than the Sum of Its Parts
Your vehicle is much more than the sum of its parts and it is important to you. Your car or truck is a way to get to your job, shuttle the kids to school and for occasionally calling in sick to work to hit the beach. Would you want to give all of that up? No way! That is why the proper maintenance is critical to keeping your vehicle on the road. This includes not only oil changes but everything from brake service and transmission repair to electrical and emissions service. At Miramar Automotive and Transmission we treat our customers like family and care about each and every one of their vehicles. So don't let yourself become a number when it comes to having your vehicle serviced or repaired, come see the best in Mira Mesa, welcome to the Miramar family!