It's summer and the fireworks are about ready to streak across the sky, creating brush fires and freaking out dogs everywhere. That's right we are only a few days away from the freedom fest celebrating the signing of the declaration of independence. At Miramar Automotive and Transmission, we are proud to serve the great people of this amazing country. What truly makes this country great is the fact that there is so much of it and it is all out there for the taking. What better way to celebrate the Fourth of July than hitting the road!
The Plan
If you decide to hit the road this Fourth of July, you really need to take a bit to make sure your car is in the best shape possible. The best place to start is to give Miramar Automotive and Transmission a call for a thorough inspection and to correct any issues that may arise. We all know that the spirit of the road trip is spur of the moment, pile in the car and throw caution to the wind. This is the reason so many small towns have that lone hippy living there, it was the spot his van broke down. Now, if you want to live that kind of adventure, by all means, head out into the great wide open. If you are like the rest of us, the prospect of being stuck on the side of the road is not far from terrifying, particularly if you are a horror movie buff. You never know what is lurking in the shadows along the open road, best be ready.
On the road your car is your safety net, an impromptu hotel room and a sanctuary from the world. All reasons why it needs to be in top shape. The first thing on your pre-road trip list should be a simple oil change and a quick scan for any active codes stored in your computer. These codes could indicate a more serious issue waiting to bring your car down and Miramar Automotive has the specialized equipment designed to read the codes. Your computer is a hidden gem that can give you all sorts of information about your car and should be inspected every so often. After the oil change, a comprehensive inspection should take place, particularly if you are planning a multi-day road trip.
The Inspection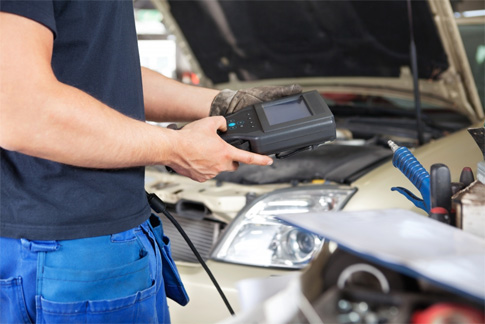 A solid inspection will provide all of the information you need to make sure nothing obvious is going to go wrong with your vehicle. Of course, hidden issues are always possible but can be caught early by a good mechanic. The inspection should take about an hour and should include putting the car on a lift and inspecting the underside for problems. The recommended maintenance schedule and a mechanic with a keen eye will be able to recommend fluid changes and a course of action.
Hopefully your car is ready for a good road trip and Miramar Automotive has given it a clean bill of health. The next thing to keep in mind, is what you will need to bring just in case you have car trouble out there somewhere. It is always a good idea to keep an emergency kit in your car, particularly on a road trip. The kit should contain: a flashlight with extra batteries, a small first aid kit, a pocket knife or a multi-tool, a blanket, 50 feet of paracord; a few emergency rations and at least a gallon of fresh water. This may seem like a lot to haul around particularly when space is a at a premium but it is better to have it and not use it than not have it and need it. The most important thing to check before a road trip is your spare tire. Make sure that it is full of air and in good condition, there is nothing more discouraging than mounting a spare that is flat and being forced to call a tow truck.   
Hit the Road!
Well, you are probably ready to take off on your Fourth of July road trip so take this advice from Miramar Automotive, enjoy every minute of your trip and live this time to the fullest!